In-Person Tours
Schedule a tour of The Sunshine Event Center.  Our 4000+ square foot event hall is includes a beautiful ballroom,  reception area with wrap-around bar, a large raised presentation stage complete with audio/visual equipment, indoor restroom facilities and on-site free parking.
In-person tours are by appointment only.  Masks are required when inside the building.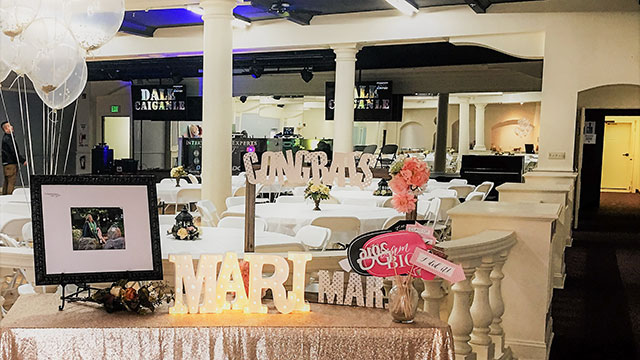 Frequently Asked Questions
How many guests can your venue accommodate?
The Sunshine Event Center is able to accommodate up to 150 guests in the large event space.
Are we able to decorate the space, are linens included?
Absolutely you are able to decorate the event space.  The tables, reception area, columns, stage area, front entrance are all areas that can be decorated.  Decorations that include live flame, such as candles and sparklers are not permitted due to fire code safety. Also, decorations such as glitter, confetti, rose petals, or live christmas trees or garland are beautiful but are a safety hazard and are not allowed in the space. To affix decorations to the wall decorating tape or command hooks are permitted.  Tacks, staples, tape or putty that will damage the wall are not allowed.
Linens and extra tables can be brought into the space, by the client, if needed, but are not provided by The Sunshine Event Center
Is alcohol allowed during our event?
You may serve alcohol at your event. If you choose to serve beer and wine only; a responsible sober adult over the age of 21 must tend your bar. It must always be attended.
When can I come in to set-up for my event? Also, can I drop my items off early?
For all event packages, your set-up time and clean up time is included in the rental period.
It is important to know, in order for vendors, family or friends to begin setting up the space, the client or designated representative of the client must be in the facility at all times.
Equipment needing to be dropped off must be done within this window of time.  The Sunshine Event Center staff can not accept equipment on your behalf and is unable to store it in the facility before or after the event.
What is required of the client at the end of the event?
Clean-up is the CLIENTs responsibility. CLIENTs are required to place all trash in provided receptacles, pick up any large debris on ballroom floor, stage, reception area and bathroom. Remove all decorations. Remove adhesives from walls, columns or banisters.  Take out all linens, food items, and outside rented items from facility. Parking lot must be free of cigarette butts, event decorations and beverage and food containers.
Once the clean-up is complete and the vendors have left, the closing event staff will do a final walk through the space with you to make sure nothing was left behind.
Damages: The Sunshine Event Center is well taken care of. You will be responsible for paying for any damage to walls, floors, counters, decorative columns, stage, etc. Absolutely no tape, tacks, staples, rice, birdseed or confetti is permitted on the premises. Real rose petals are only allowed outside and silk rose petals are only allowed inside. If you use bubbles, be aware that too many bubbles will cause slippery floors that will be dangerous for your guests. Only Flameless – Candles are allowed. Confetti and glitter are not allowed at The Sunshine Event Center.   If brought in, picking up glitter and confetti inside or outside the event center will be the responsibility of the Lessee.  If it is not completely picked up, the Lessee will be charged $150.00 per hour for our staff to do the job (minimum of 2 hours will be charged)